Communicating with your patients, especially on an erasable and customizable surface like a whiteboard,  is the best way to reduce anxiety and increase patient satisfaction thus boosting your hospital's HCAHPS score. The better your hospital's HCAHPS score, the better your Medicare payment is. An increased satisfaction rating in the 90th percentile could mean a million dollar budget increase.
How Your Bottom Line is Affected by HCAHPS
The Hospital Consumer Assessment of Healthcare Providers and Systems or HCAHPS is a random survey given to the patients of participating hospitals to measure patient satisfaction. Public reporting of the HCAHPS in 2008, gave way to hospital rivalries and better hospital service. (HCAHPS: Patients' Perspectives of Care Survey)
Why Whiteboards Work
Ultimately, hospitals receive a Total Performance Score (TPS) based on scores in 4 domains: Clinical Outcomes, Safety, Person and Community Engagement, and Efficiency and Cost Reduction. HCAHPS plays a major role in the awarded TPS. A positive relationship is statistically significant between patient satisfaction, TPS, HCAHPS score, awarded IPPS payments. Hence, your hospital's HCAHPS score can significantly increase or decrease your Medicare reimbursement payment.  (Fact sheet CMS Hospital Value-Based Purchasing program results for fiscal year 2020)
Specifically, the HCAHPS score can affect up to 2% of your IPPS payment.  In 2019, just about 3,960 hospitals that participated in the IPPS system received a collective "$8.4 billion in uncompensated care (UC) payments, which is about $78 million more than in FY19." (Rich Daly, 12 details to know about The IPPS final rule) A fluctuation of 2% can mean an estimated $2.3 million gain or loss.
This carrot and stick approach incentivizes hospitals to increase their HCAHPS scores with a reward of around $2.3 million from the CMS or a deterrent of the same amount in accounts payable to the CMS.
Educating your patients is a critical factor that influences hospital consumer satisfaction. In their time of uncertainty and anxiety, hospital staff need to prioritize excellent provider-patient communication. In an article published by Becker's Health Care, 2 out of the 5 ways to boost HCAHPS scores involved a strong focus on communication, specifically with a whiteboard. Andrew A. Brooks, MD, Chief Medical Officer recommends whiteboards to raise HCAHP scores,
"…hospitals can also educate patients via written instructions …on a whiteboard placed within a patient's eyesight. Educating patients during transitions of care… is critically important." (Brooks, A. A.)
In the peer reviewed Healthcare Journal BMJ Open Quality, a study proves that visual aids improve physician identification and overall patient satisfaction. Furthermore, "68% of patients with the attending name correctly listed on their whiteboard were able to correctly identify the attending physician." (Wahlberg, K.) Another study published in BMJ confirmed that the effective use of a whiteboard supports patient experience and improves provider-patient communication.
The effective use of a whiteboard is defined by "customized whiteboard designs to align with the needs of each clinical area, specifically the Maternal and Child units and the ICU…" Moreover, whiteboards are regarded as useful by the "80% of patients and families [who] looked at the whiteboards for information." (Bañez, C.)
The key takeaway is that informing patients about procedures, staff identification, and care plans with the effective customization of whiteboards for each clinical department and frequent updating and messaging on these whiteboards can significantly increase your patients' comfort and lower anxiety. Customizable whiteboards are simply the easiest and most effective tool to help your patients feel more satisfied with the care they receive at your hospital or LTCH.
Top 4 Hospital Board Designs
According to the study published in BMJ Open Quality, customizing your boards to align with the goals of each clinical department are necessary for effective messaging and communication, which in turn improve patient satisfaction HCAHPS scores. After serving the market for over 30 years, we've compiled the 4 most popular hospital boards designs here.
The Patient Bedside Board

Our standard patient bedside boards can be customized with any soothing background proven to accelerate healing. 

The ICU Board

The Intensive Care Unit whiteboards contain spaces for medications, treatments, procedure schedules, emergency information or any metric that needs close monitoring.

The Total Performance Quality Board

Our Total Quality Management boards can help your hospital foster a trustworthy name. This design has a space for HCAHPS score for high transparency.

The Maternity Board

Whiteboards are especially critical in maternity units where communication needs to be at it's highest between health care providers and birth givers.
View More Hospital Whiteboards
Hospital Best Sellers
Prism-Lock™ Custom Magnetic Aluminum Whiteboards

Prism-Lock™ custom magnetic aluminum whiteboards are coated with a seamless writing surface that can withstand harsh cleaning chemicals, like bleach and ammonia, while protecting the high resolution designs from fading.

Classic Custom Magnetic Porcelain Steel Whiteboards

Our classic custom whiteboards are made with an industrial quality porcelain steel backing and coated with our signature scratch resistant dry erase surface. The trim is one continuous piece of anodized aluminum with polished edges.
Prism-Lock™ Features and Specifications
Custom printed to your specification using color fusing technology that resists fading
Accepts harsh chemicals like bleach and ammonia
Scratch and abrasion resistant
Satin Anodized Aluminum Trim
Strong magnetic receptive surface
Prevents marker ink penetration that causes ghosting
Sizes from 18" to 8'
Installation hardware included
Steel substrate is .023 inches thick
Meets the lowest Class A flame spread index on 25 or less
View Prism-Lock™ Custom Whiteboards
Classic Custom Magnetic Porcelain Steel Whiteboards
Custom printed to your specification with our signature dry erase laminate
Magnetic Receptive
Satin Anodized Aluminum Trim
Some Sizes Can Be Ordered With Or Without A Marker Tray
5 Year Total Erase Warranty
Can Be Cleaned With Isopropyl Alcohol
Made In The U.S.A.
View Classic Custom Whiteboards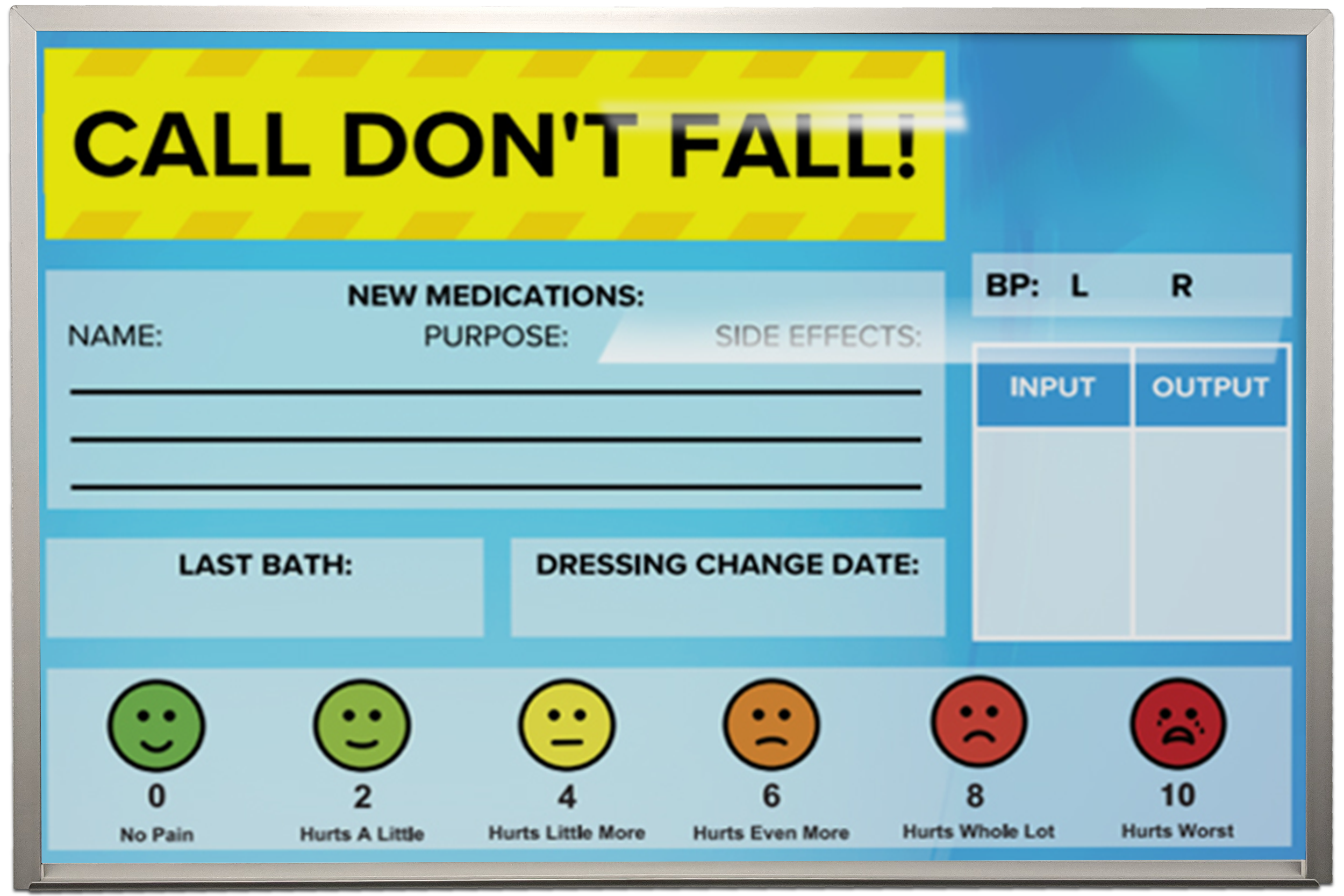 Why Choose OptiMA?
We are a woman-owned small business making our products in the USA. We specialize in dry erase boards, dry erase wallcoverings, portable dry erase units, high-quality custom printed whiteboards, fast shipping, and five-star customer service. Over the last three decades, we've worked hard to deliver industrial quality whiteboard solutions that won't break customers' budgets.
Sources:
Bañez, C., Gelmi, S., Bansil, N., Drebit, R., Solomon, S., Yoon, J., Burkoski, V., Collins, B., & Hall, T. (2021, January). Applying local context to design and implement patient room whiteboards. BMJ open quality. https://www.ncbi.nlm.nih.gov/pmc/articles/PMC7798407/.
Brooks, A. A. (2014, April 7). Going from good to great care – 5 ways to Boost HCAHPS Scores. Becker's Hospital Review. https://www.beckershospitalreview.com/quality/going-from-good-to-great-care-5-ways-to-boost-hcahps-scores.html.
Fact sheet cms Hospital Value-Based Purchasing program results for fiscal year 2020. CMS. (n.d.). https://www.cms.gov/newsroom/fact-sheets/cms-hospital-value-based-purchasing-program-results-fiscal-year-2020.
HCAHPS: Patients' perspectives of Care Survey. CMS. (n.d.). https://www.cms.gov/Medicare/Quality-Initiatives-Patient-Assessment-Instruments/HospitalQualityInits/HospitalHCAHPS.
Rich Daly, H. F. M. A. senior writer/editor. (n.d.). 12 details to know about The IPPS final rule. hfma. https://www.hfma.org/topics/news/2019/08/12-details-to-know-about-the-ipps-final-rule.html.
Wahlberg, K., Lambirth, S., & Gardner, Z. (2019, April 29). Improving patients' ability to identify their physicians through the use of physician facecards and whiteboards. BMJ open quality. https://www.ncbi.nlm.nih.gov/pmc/articles/PMC6542432/.