As Indigenous People's Day approaches on October 11th,  we want to honor their resilience in preserving and sustaining the land, water and animals that make up our home, by putting the spotlight on some of the native-partnered wildlife organizations that we've worked with.
Working Together
Native Americans are credited for providing a model with which to sustain nature and recognize its ubiquitous relationship with every inhabitant. On this Indigenous People's Day, we hope to amplify the voices of Native and Native Partnered Organizations fighting to sustain the gifts nature gives us by putting the spotlight on some of our partners in wildlife management. 
The Siuslaw National Forest Trail Map
We've worked with Native American partnered organizations like Siuslaw and Necedah National Forests, the US Fish and Wildlife Service and Forest Service to create magnetic dry erase maps that keep wildlife conservation and sustainability at the helm of everything they do.** The Siuslaw National Forest named after the Siuslaw people that lived and still live across 14,742 acres of the western Oregon. The ancestral territory is managed by the USFS and the Confederated Tribes of Coos, Lower Umpqua and Siuslaw people. We worked with the Siuslaw National Forest to create a map of the Cape Perpetua Trails on a custom printed dry erase board. The map features the intensity levels of the various hiking and biking trails, viewpoints, bathrooms , trail shelters, and educates the public on boundaries where protected marine life starts and stops.
Spotlight on the National Bison Range
Other partners include Rocky Mountain Reclamation, NC Wildlife Resources, PA Wilds Center and AZ State Forestry. After over 100 years, the Confederated Salish and Kootenai Tribe (CSKT) and our partner, the US Fish and Wildlife Service (USFW) is finally celebrating the CSKT's rightful ownership of the National Bison Range (NBR) on the Flathead Indian Reservation in Montana. As the story goes,  Attatice's son from the Pend d'Oreille tribe courageously led a herd of bison calves over the continental divide and back to their hunting grounds, the NBR, after their population was decimated by colonizers in the 1800s. Today,  the CSKT and our partner, the USFWS  protects and preserves its 18 thousand acres of wilderness. (2) Together, they closely monitor fish hatcheries, waterfowl breeding grounds, lake and stream runoff, species management, safe harbor marshes and more.  
The Flathead Reservation is still home to about 5,000 Salish and Kootenai Tribe members. The partnership between the CSKT and the USFWS is considered a national exemplar for all Native/Non-Native Wildlife Conservation Groups(2). We're proud to have partners that set the national precedent for wildlife management. 
Let's Partner Up
We are eager to create custom printed dry erase maps and aerial and satellite images for any Native, Native Partnered or Non-Native run organization whose objectives range from tree inventory, like our partner, Forest Metrix, to public land management, like our partner Pennsylvania Wilds.  Our custom printed dry erase boards can help visualize and monitor any aspect of the land, water or ecosystem. Labels, boundaries, cartography keys or any other design elements can be added to the print. Colored magnets and dry erase magnet strips are a great way to track each location on the map.
alt="Aerial Dry Erase Board"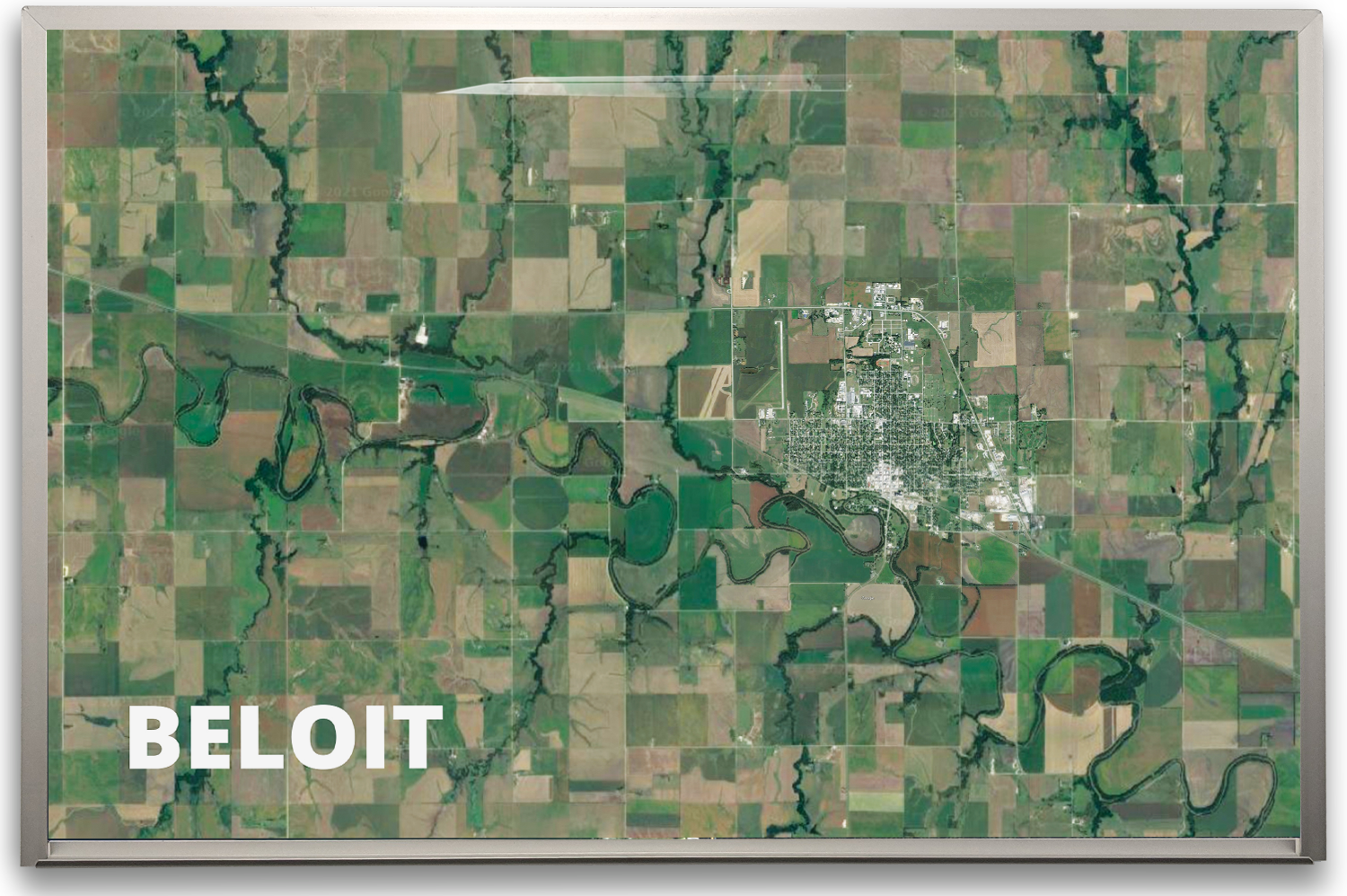 Sizes and Types of Custom Boards

With a custom printed whiteboard, anything is possible. You can monitor fire regime, irrigation, species management and more. We have many options to meet you at your price point. Choose from several sizes up to 12′ long, and different substrates, porcelain steel or Prism-Lock™. Whatever you choose, we guarantee vibrant colors, unmatched eraseability, easy installation and a durable build.
Magnetic Receptivity Option
Dry Erase Surface Option
Polished Aluminum Tray
Sizes up to 12' long
Check out our portfolio here to view a larger collection of aerial and satellite maps and much more.
Why Choose OptiMA?
We are a woman-owned small business making our products in the USA. We specialize in dry erase boards, dry erase wallcoverings, portable dry erase units, high-quality custom printed whiteboards, fast shipping, and five-star customer service. Over the last three decades, we've worked hard to deliver industrial quality whiteboard solutions that won't break customers' budgets.
*United Nations International Conference on Discrimination against Indigenous Populations in the Americas 
**The US Forest Service " is recognized as a leader… in partnering appropriately and collaboratively with American Indian and Alaska Native Tribal governments and communities for mutually beneficial outcomes." 
https://www.fs.fed.us/spf/tribalrelations/
Sources: